The American Armory Museum, one of Fairfield's newest attractions, is proudly bringing history to life for its visitors with an impressive display of military vehicles and memorabilia that dates back over 100 years.
The museum, located at the intersection of Abernathy Road and Suisun Valley Parkway, has over 60 vehicles on display between its large yard and indoor showroom, many dating back to World War II, the Korean War, and the Vietnam War. The superstar of the fleet is General George S. Patton's 1943 Command Jeep.
Visitors have the unique opportunity to see each and every vehicle up close and even climb inside some of the larger ones for photos. The showroom is also full of memorabilia and flags. There is a "Fallen Soldier" display donated by an Air Force veteran once stationed at Travis Air Force Base, and people can leave dog tags to honor a loved one. An original American flag, now tattered at the edges, dates back to the Civil War. Mannequins, on loan from the Sacramento Military Museum, are dressed in original or replica uniforms and have been strategically placed in vehicles and around displays to add authenticity to the visitor experience.
"It's important to keep the history alive and to share it in a way that really represents what our military does for us," said Geoff Lippman, the museum curator and general manager. "If it wasn't for our military and our service men and women, we wouldn't be the country we are today."
Lippman leads tours around the showroom at 11am and 1pm on Saturdays, with a flexible tour schedule on the weekdays. He passionately admits he can talk for hours about all the history inside the museum and loves seeing children's eyes light up as they explore.
"It's exciting to see the museum resonating with so many people," he added, "especially since it just opened to the public in early 2019."
Lippman has been involved in this project since 2013. The year prior, Herman Rowland, former CEO of Jelly Belly, purchased seven military vehicles through an auction and parked them on his property, where the museum now stands.
"I came here to help him repair and restore the vehicles," Lippman remembered. "At the time, it was a private collection. We weren't planning to have a museum. But then people began to have interest in it and wanted to donate their own vehicle collections and memorabilia."
Most of the vehicles at the museum are on loan from their owners in Solano County and the Bay Area. Sally Green, a Vietnam War nurse, provided her collection of World War II, Vietnam and Korean War vehicles. The Harley Davidson motorcycle collection belongs to Bay Area resident Dennis Gill. Rick Stewart, also from Northern California, has seven vehicles at the museum, including Patton's jeep. And in addition to the mannequins, the now closed Sacramento Military Museum loaned its entire collection to the American Armory Museum. The Fairfield museum also partners with Vacaville's Center for Freedom and Flight, and the USS Hornet. "Working together with all these organizations helps everyone cross promote one another," Lippman said, "and it has proven to be very beneficial."
Of all the vehicles displayed, Patton's command jeep is the most well-known in the collection, but the museum also includes a World War II Achilles tank, one of only six remaining in the world, a Marmon-Herrington tank, one of only three in the world, and a 1942 Harley Davidson XA, one of 30 remaining of the 1,000 that were produced. There is also a 1918 Harley Davidson, an Israeli M-5 Half Track Armored Personnel Carrier and a giant Super Mack.
"I can tell you that 90 percent of everything here on the lot will run and drive," Lippman said proudly. "But that doesn't mean it ran when it came through my gate."
Indeed, there is a lot of work that goes on behind the scenes. Lippman and his small team of volunteers regularly work on maintenance and repair for the vehicles. More volunteers are always needed, both for vehicle maintenance and as museum docents. "The more docents there are, the more tours that can be offered," Lippman said. He has had to cap tours on Saturdays because the demand is so high and he is the only one there.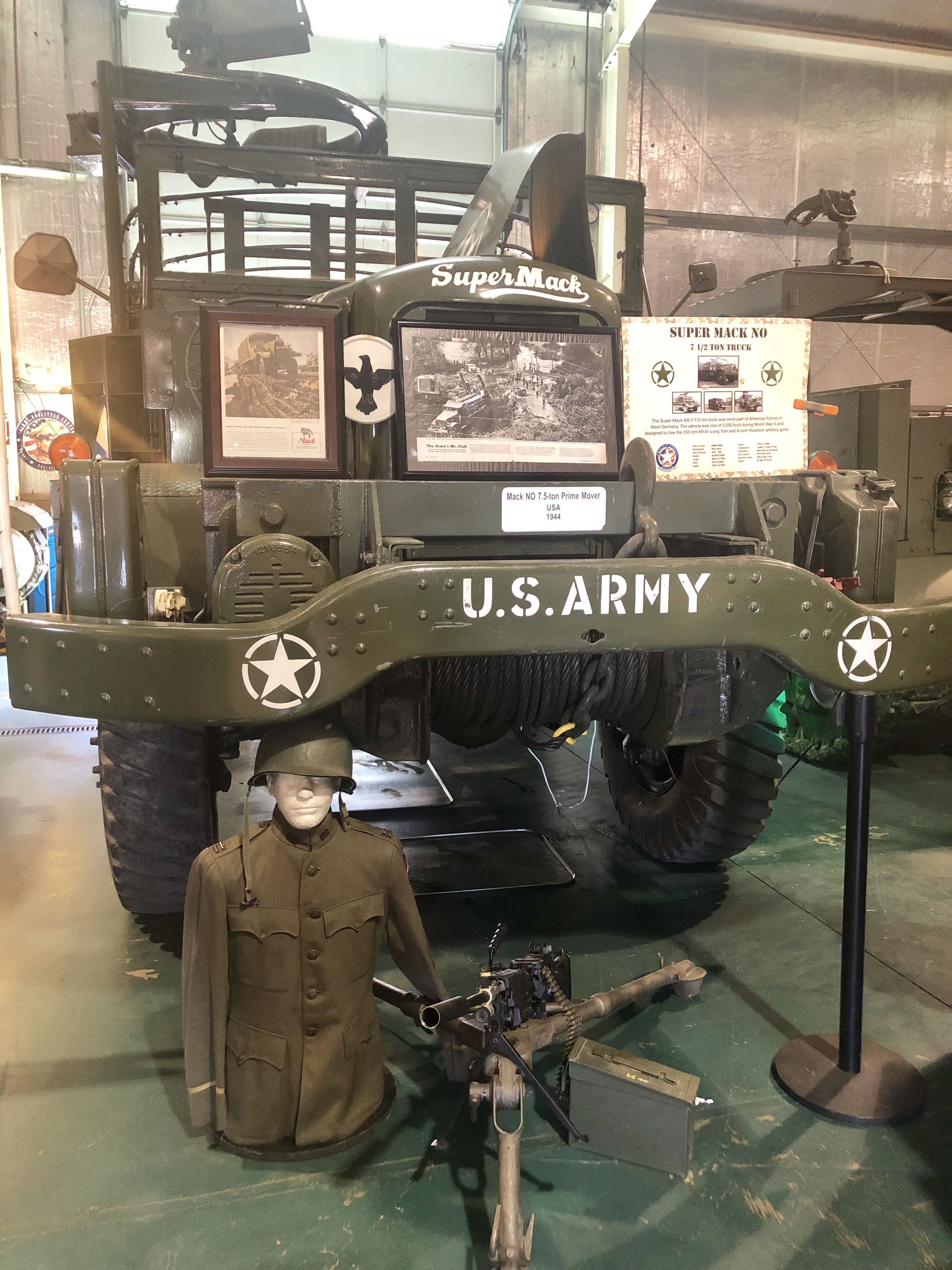 The museum is open Wednesday to Saturday, from 10am to 3pm at 4144 Abernathy Road. Admission is $7 for adults, Children 11 & younger $3, Military and Veterans with ID are free.
There are several donation boxes inside to help the museum raise funds to support the museum. Lippman said that as long as he can, he will offer free admission to visitors.
"We want to make sure everyone has the opportunity to come out and see and learn about the history and sacrifices our military has made," he said.