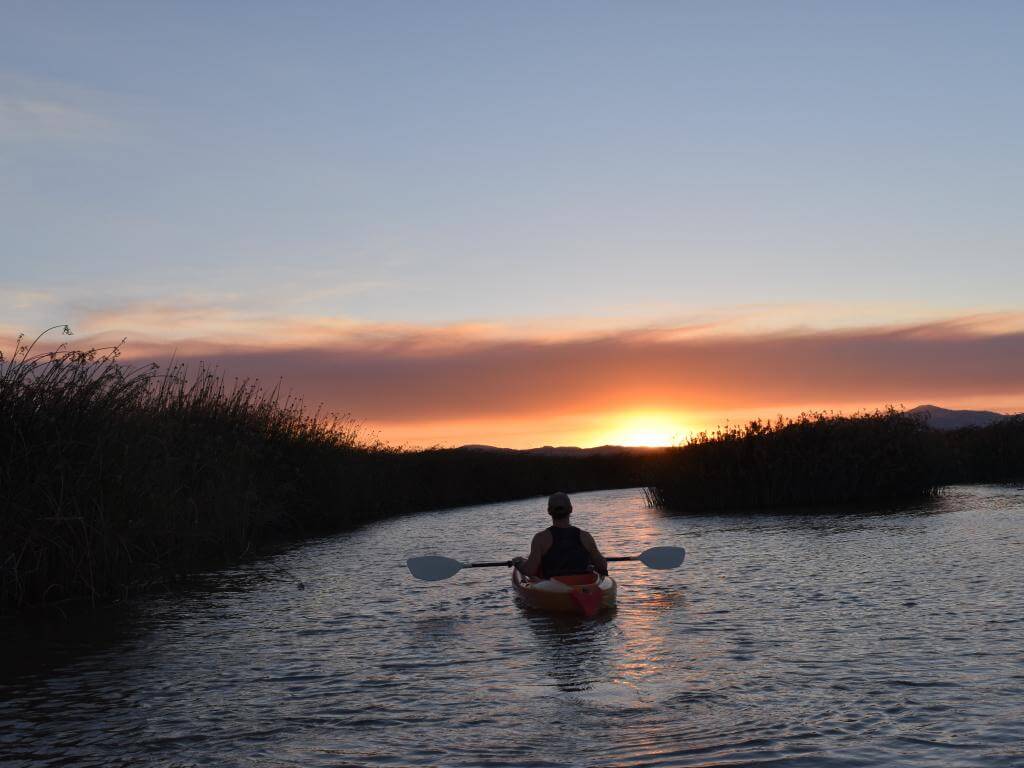 Abundant with wildlife and especially birds, the 84,000-acre Suisun Marsh just outside of Fairfield is the largest contiguous estuarine marsh in the western United States.
The marsh serves as the resting and feeding ground for thousands of waterfowl migrating on the Pacific Flyway and provides essential habitat for more than 220 bird species, 45 mammal species, 16 different reptilian and amphibian species, and more than 40 fish species. The Marsh also supports sensitive plant species like the Suisun thistle, which is found nowhere else in the world.
With a bicycle, a paddle board, or just a good pair of walking shoes, adventure awaits amid the endless acres of open land, bays and sloughs. The remarkable mix of marsh scenery and wildlife has attracted nature lovers, families, hikers, hunters, anglers, photographers, and so many others for decades. Boats and canoes drift easily on the tidal sloughs. There are 75 miles of roads and trails, and several self-guided hiking trails are being planned. Many dirt roads reveal otter crossings, but you'll also notice bicycle tracks or human footprints – there are, after all, many ways to experience the Suisun Marsh and nearby Grizzly Island Wildlife Area.
Located at the intersection of Highway 12 and Marina Blvd in Suisun City, the Grizzly Island Trail is only about a mile long, but is wide and provides plenty of opportunity for recreation – bicycling, walking, jogging, birding, nature study, wildlife observation, and photography. Featuring educational interpretive signs, an overlook area, and benches, the trail skirts the edge of the Suisun Marsh. Heading left as you face the granite monument, the trail leads to Grizzly Island Road. Take a right on Grizzly Island Road to venture into the marsh, which is home to over 200 species of birds, including the graceful snowy egret, the dramatic red-winged blackbird, and stately mallard ducks. In and around the marsh, you'll observe flocks of starlings swarming in mesmerizing unison, their sing-song projected in full surround-sound.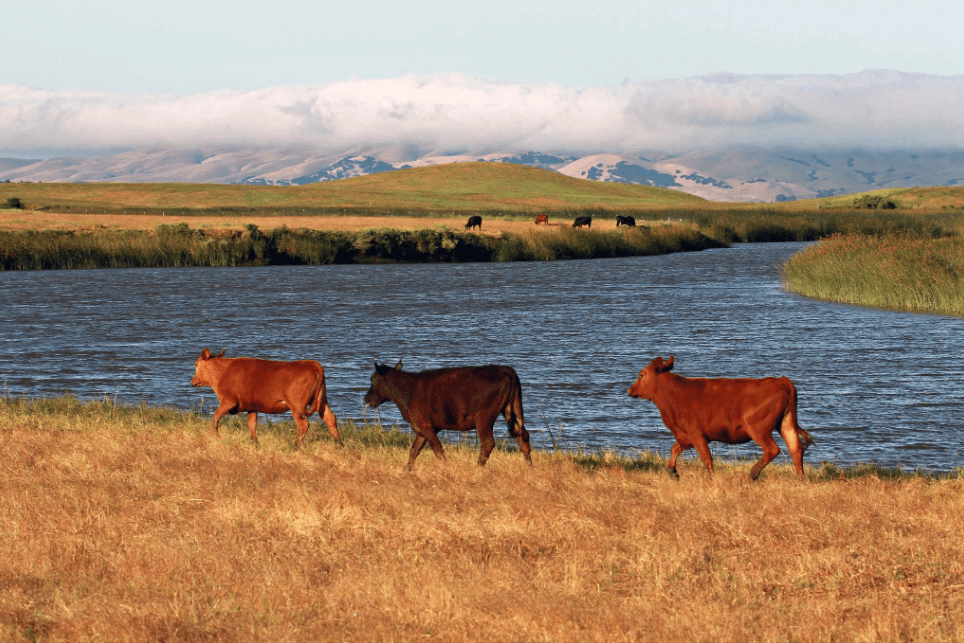 Rush Ranch, a cattle ranch owned and managed by the Solano Land Trust, is located just a few miles from Suisun City off Grizzly Island Road. It's open daily, sunrise to sunset, and admission is always free. "Rush Ranch Wins Hearts" could truly be the headline for any story about Rush Ranch. Whether you're a child or an adult, a hiker, birdwatcher, biologist, teacher, photographer, poet or painter, or just out for a picnic, this Solano Land Trust jewel will win you over. The ranch stretches across 2,070 acres of marsh and rolling grassland. Rush Ranch includes a nature center that showcases the many natural and historical features of the property, hiking trails, history of the Patwin Indians and its Suisun Tribe, and wonderful opportunities for wildlife viewing.
Named after the Grizzly Island Wildlife Area, Grizzly Waters Kayaking offers a variety of opportunities including specialty kayaking and SUP (stand up paddle board) rentals, tours, SUP Yoga, and kayak and paddle board lessons around the Suisun Waterfront and Suisun Marsh. Tours include a sunset paddle, full moon paddle, and a nature paddle. All tours are approximately two hours long. Reservations are required.
The Grizzly Island Complex occupies about 15,300 acres of the Suisun Marsh. The complex is a patchwork of 10 distinct land parcels, many of which are not connected and are surrounded by private land. They offer a variety of recreation opportunities and act as a vital buffer against further marsh development. The Grizzly Island Complex combines natural tidal wetlands and artificially diked marshes. Each habitat attracts a special kind of wildlife. Pass some hours along the bay or on the graveled foot trails at Peytonia Slough. Experience the renewing rhythm of the tides, the changing complexion of marsh life. Some animals, like the California clapper rail and Suisun shrew, live exclusively in these tidal wetlands. Fish and Gamers manage extensive waterways and pumps to create more than 8,500 acres of seasonal ponds. Plants like alkali bulrush and fat-hen are encouraged. This carefully managed combination of high nutrient food and resting ponds sustains more than 100,000 waterfowl at Grizzly Island every winter.