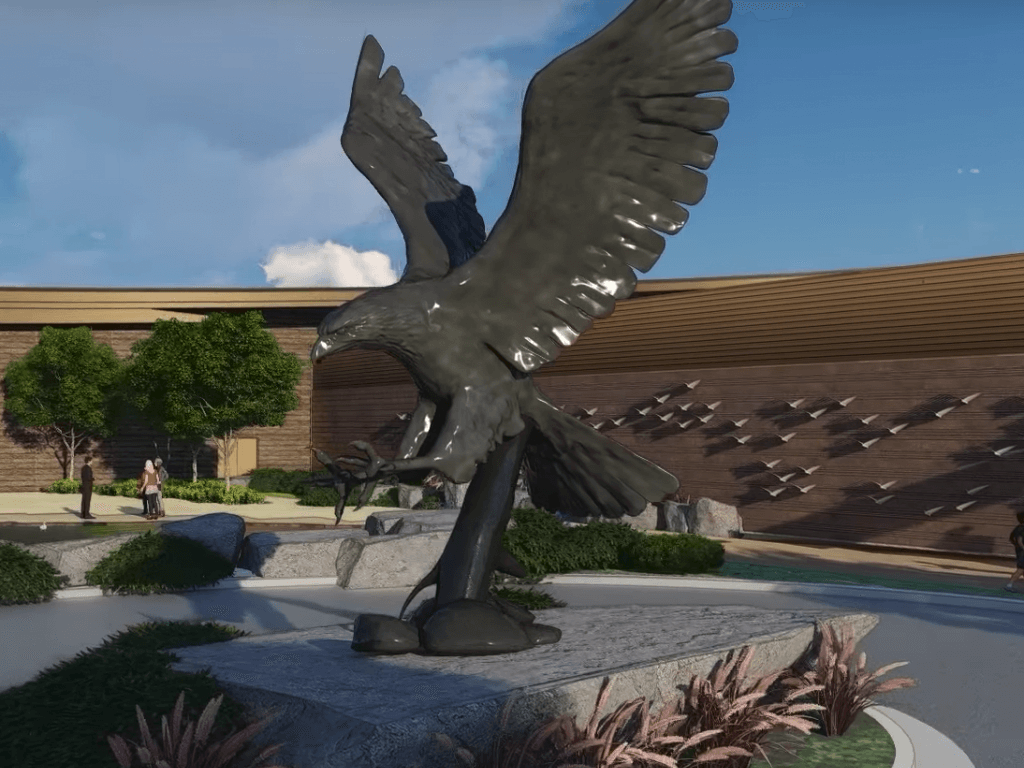 The following article appeared in the Fairfield Daily Republic on July 25, 2018
By Bill Hicks
FAIRFIELD — When something is said to be "for the birds," it's often a reference to something negative.
Fairfield is hoping the saying stands for something great as community members and planners gathered Tuesday at Oakbrook Elementary School for an overview of the planned Pacific Flyway Center.
The center, once fully constructed, is expected by many of the center's partners to be the bird equivalent of what the Monterey Bay Aquarium is for sea life.
The center is expected to consist of a 28,000-square-foot main building and two smaller buildings that will allow for exhibits, classrooms, meeting spaces, lookouts and more. The center will also include a large wetlands park – all aimed at improving the general public's understanding of Fairfield and Suisun City's importance in terms of migratory birds and waterfowl.
The Pacific Flyway is essentially a sky freeway connecting the arctic with Patagonia in South America, with birds traveling as many as 11,500 miles along that route. Fairfield and the Suisun Marsh are the rough halfway point and, according to Flyway Center planners, as many as 1 billion birds pass overhead each year.
"This is going to be so big. It's really going to lift all other boats," said Fairfield City Councilwoman Catherine Moy, who was one of several city officials who stopped by the event. "I'm really looking forward to the educational element and potential."
The city is working with planners to try to mitigate concerns over increased traffic flow and other impacts to local neighborhoods, Moy said, but she felt those issues could be well-addressed through some forethought.
Many of the center's partners were hopeful the facility could serve as a hub of understanding for the public in terms of conservation and education.
"Our connection is looking at ways to improve education and teaching," said Andy Engilis, curator of the Museum of Wildlife and Fish Biology at the University of California, Davis. UC Davis could be involved with the project in numerous ways, Engilis said, including some student teaching opportunities, as well as active field research for UC Davis students.
JD Bergeron, executive director of International Bird Rescue, said the potential between the facility and organizations like his are potentially game-changing.
"I can imagine a really excellent partnership where we work to rehabilitate sick and injured birds to the wild and they (Pacific Flyway Center) continue to expand people's appreciation and awareness of birds," Bergeron said. "We're hoping there might be a way for some of the birds in recovery (at International Bird Rescue) can be safely on display so people can learn how that process works, as well."
As it stands, many involved with the project are simply hoping the ambitious plan can actually take flight. Informational meetings like the one Tuesday serve both as a means to interface with the public but also to expand opportunities for fundraising and additional partnerships, organizers said.
If the facility is realized, it will be located along the eastern side of Interstate 680 almost directly perpendicular to Canyon Hills Drive. The completed center is designed to symbolize wings in flight and the swooping roofline would be visible for miles, planners said.
For more information and a short video overview of the project, visit www.pacificflywaycenter.org.