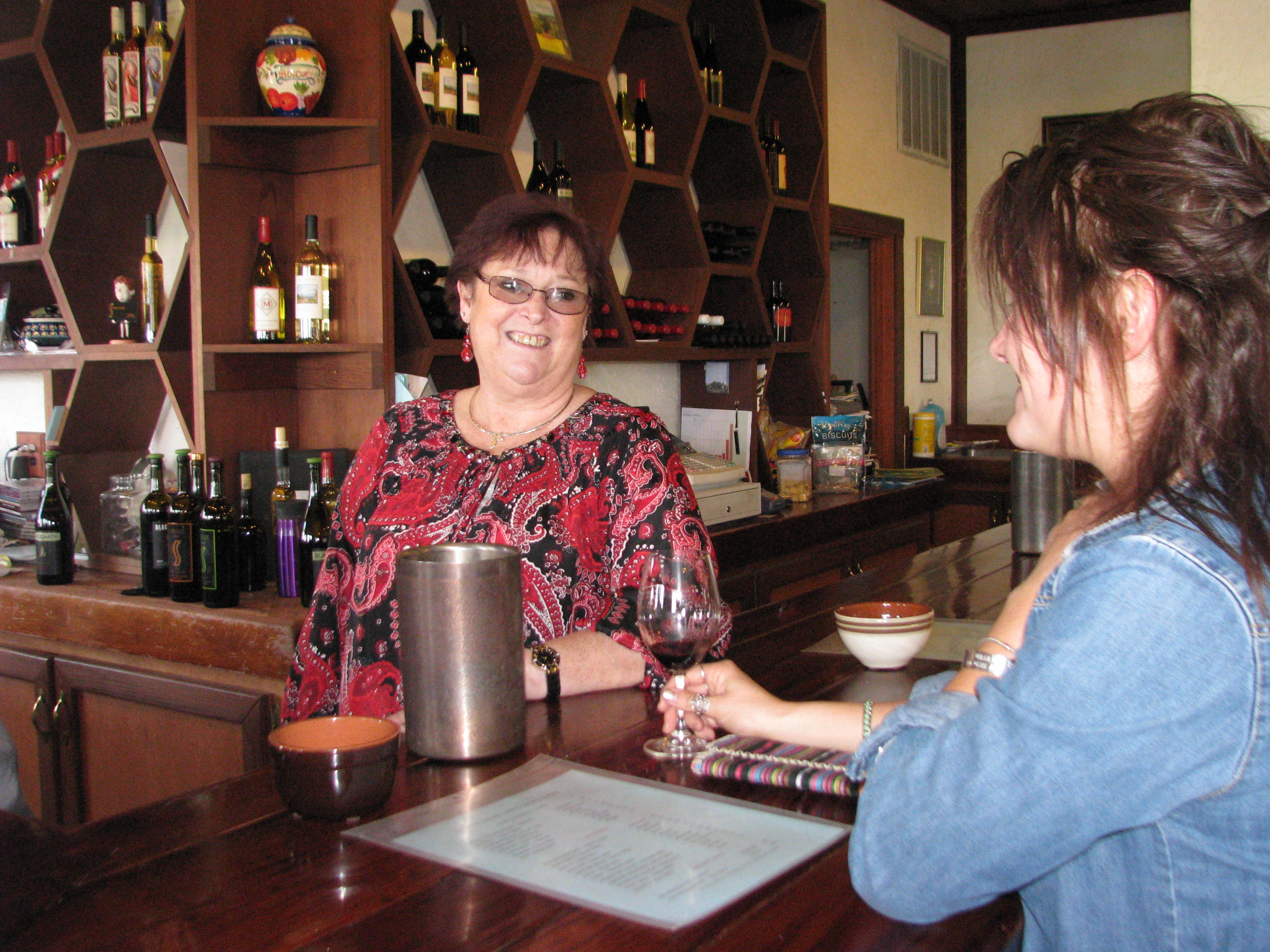 Pat Mendez, who can be found several days a week at the Suisun Valley Wine Co-op, says this place is like her Disneyland. [/caption]
Pat Mendez describes herself as an ambassador to Suisun Valley. She has always loved this area, the wine it produces and the people who call it home. She also loves sharing her passion. She is able to do just that several days a week at the Suisun Valley Wine Co-op, where she pours wine for out-of-town visitors and locals. "This place is like my Disneyland," she said as she and Kat Sparks from Sunset Cellars served wine to about half a dozen visitors on a recent spring afternoon. Outside, the sun was shining as acres and acres of vines grew across the street. "I love it out here." As much as she loves the valley and a good glass of wine, Mendez said her favorite part about working at the wine co-op is the people she meets.
"Your regulars become like family," she added. "I have people who come in every week just to say hi. It's always nice and very comforting." The Suisun Valley Wine Co-op has always strived to be a place where friends can gather in a relaxing and rustic environment.
Sparks and her husband, Doug, started the co-op in 2007. They have been making wine with grapes from Suisun Valley since 1998 and were often in the area. One day, while driving the back roads, they noticed an empty building and land that was obviously once a winery.
"One day, I peeked in and saw the tasting room and thought, 'what a wonderful opportunity," Sparks said. Sunset Cellars now grows its own grapes on the property. As for the tasting room, Sparks and her husband knew right away it was too large for just their wines. They worked out an agreement with Solano County to operate it as a co-op.
Today, 40 varieties of wine, including white, rose, red and dessert wines, are served and sold inside from King Andrews, Blacksmith, and Sunset. All are made with grapes grown in Suisun Valley.
The co-op is open Thursday through Sunday and is run by people from each of the wineries.
"Our vision was that we didn't want to be like Napa," Sparks said. "We wanted to be more relaxed and rustic. We wanted a tasting room that would be manned by the people who knew about grape growing and wine and who know about this county."
What the co-op has created is Mendez's own version of Disneyland. She has only praise to give to the co-op and its dedication to the community. She proudly shows a bottle of wine made my Sunset, called "La Ta-Ta" that benefits the Solano Midnight Sun Foundation, a non-profit for breast cancer patients and survivors. She herself is a survivor, Mendez said, and that particular bottle of wine is very important to her. Her words were especially touching to Dawn Velikonia of Fairfield, who stopped by to visit that afternoon and enjoy a glass of wine. "We love to meet new people here," she said. "They are so welcoming to everyone. It's like a close family."