As veraison washes across our Suisun Valley and Green Valley vineyards, turning our grapes from green to purple, our growers and farmers know that the harvest season is almost here – and they're ready to celebrate!
Suisun Valley's annual Harvest Celebration is set for Aug. 25 from 11 am to 4 pm. Hosted by the Suisun Valley Vintners and Growers Association, the Harvest Celebration is a family-friendly event with free admission to all participating farms and wineries.
Visitors are invited to travel the Suisun Valley "loop," stopping at participating locations to enjoy the many festivities. Travel through wineries, vineyards, olive orchards and farm stands, exploring all that Suisun Valley has to offer. The entire family can enjoy grape tastings, grape stomping, one on one time with winemakers and farm owners, hayrides, vineyard tours and more. As you visit each of the eight participating venues, you will find unique activities including jam and goat cheese tastings, farm animals, interactive educational experiences, ag professionals, aviaries, tractors, and live music. Admission is free but there will be fees for some activities, such as wine tasting and food.
Harvest Celebration participants:
● Il Fiorello Olive Oil Company
○ Scavenger hunt and geocaching
○ Complimentary soup tastings
○ Ruhstaller beer
○ Baby goats and goat cheese tasting with Skyhill Ranch
○ Clay's Bees
● GV Cellars
○ Barrel samples
○ Family day – corn hole, ring toss, oversized pong
● Larry's Produce
○ Hay rides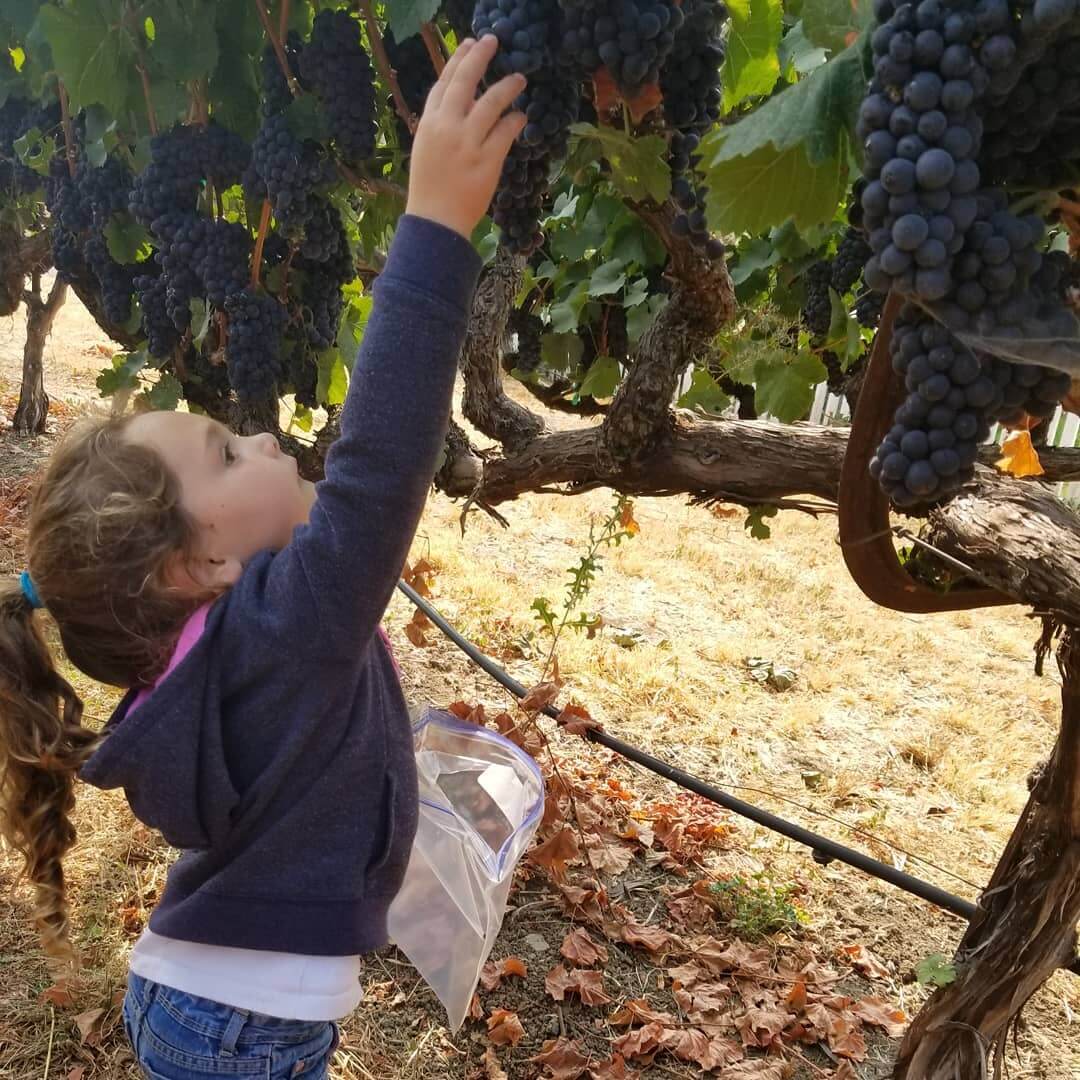 ● Mangels Vineyards
○ Jam tasting with Erickson Ranch
● Suisun Valley Filling Station
○ *note this is a 21 and older location
○ Live music
○ Food truck – El Chili Caliente
● Suisun Valley Wine Co-op
○ Olive oil tasting with Sepay Groves Olive Oil
● Tenbrink & Tolenas
○ Insect display with the Ag Commissioner
○ Food truck
● Wooden Valley
○ Grape stomp
○ Food truck
Meanwhile, if you travel through Suisun Valley, you're probably already admiring the growing grapes on the vines. Many have turned a dark purple color. In the vineyard life cycle, this is called veraison, meaning the onset of ripening. It occurs every July and August and is a sure sign that harvest is near. The official definition of veraison is "change of color of the grape berries." Veraison represents the transition from berry growth to berry ripening.
Veraison begins when green chlorophyll is broken down and the grape berries begin to accumulate their colorful pigments. The vine's leaves soak up the heat from the sun, turning it into sugars and carbohydrates that the vine can feast on. Some of the sugar is deposited into the grapes, which will help them to taste more fruity and sweet. The more sunlight absorbed by the leaves of the vine, the sweeter its fruit becomes. Many of the sweeter wine varieties come from late-harvest grapes.
Fun fact: The grapes begin as hard, small berries, but by the time they're at full veraison, they will be much larger and pliable. Veraison occurs over a long period of time and each grape variety ripens at a different rate.