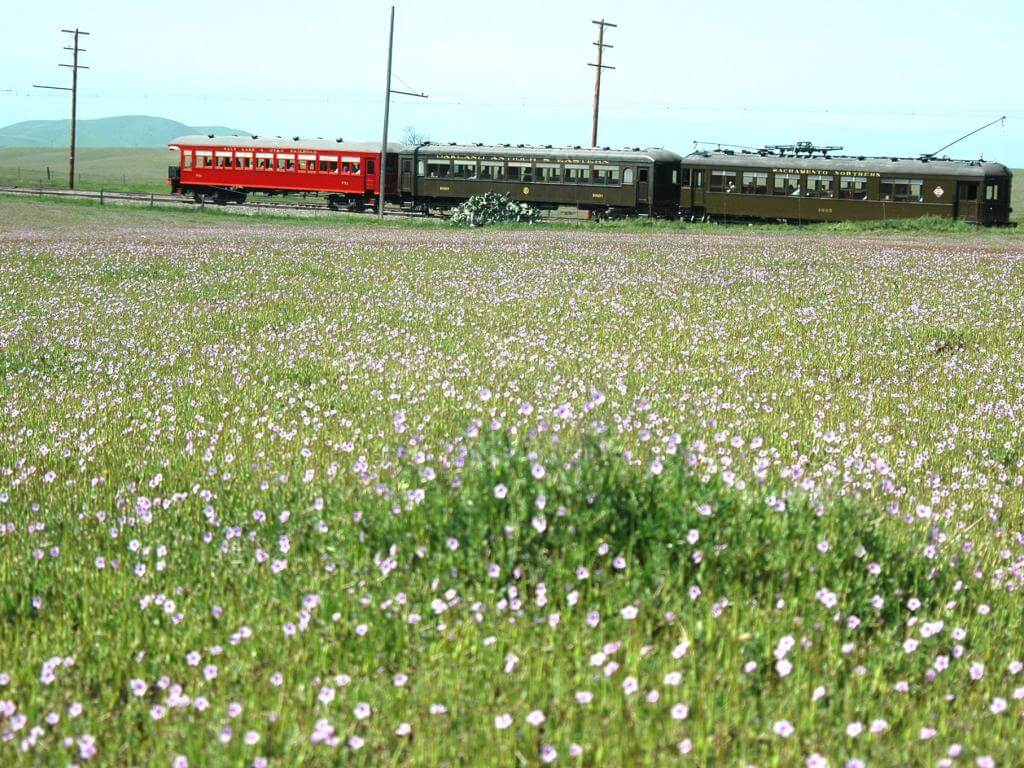 The winter rain has turned our rolling hills bright green, and with the early signs of spring in the air, wildflowers are already beginning to dot the landscape.
The vibrant colors have train and wildflower enthusiasts looking towards April and the annual departures of the Western Railway Museum's Scenic Limited train.
Celebrate the return of spring on a special 11-mile excursion through rural Solano County on board the Scenic Limited, with departures every Wednesday, Saturday, and Sunday from March 30 to April 28. Admire the rolling Montezuma Hills and views of Mt. Diablo. Passengers also catch views of the native flowers that cover Solano County's green hillsides and fields. The views change weekly and Museum docents are on board to point out whatever happens to be blooming along the way such as poppies, goldfields, and sheep's sorrel.
The train will depart at 11 a.m., 12:30 p.m. and 2 p.m. each Wednesday, Saturday, and Sunday. The train takes visitors on an 11-mile round trip ride. General admission is $10 adults, $9 seniors (65+) and $7 kids (2-14). Members are free. First Class fare includes cookies and lemonade in the beautiful restored 1914 Salt Lake and Utah Railroad parlor observation car. Those tickets are $17 adults, $16 seniors (65+), $14 kids (2-14), and members $7.
All ticket prices include all-day museum admission so guests can also tour the Rail Car Display House, the exhibit hall, the museum store, the Depot Cafe, and the picnic area. Parking is free.
Guests are encouraged to purchase tickets online ahead of their departure, especially if you plan to sit in the parlor car. Click here for a link to purchase. Tickets are also available day of departure.
This is the 15th year of the Western Railway Museum's Scenic Limited train experience. The museum is open weekends year-round. For more information: www.wrm.org