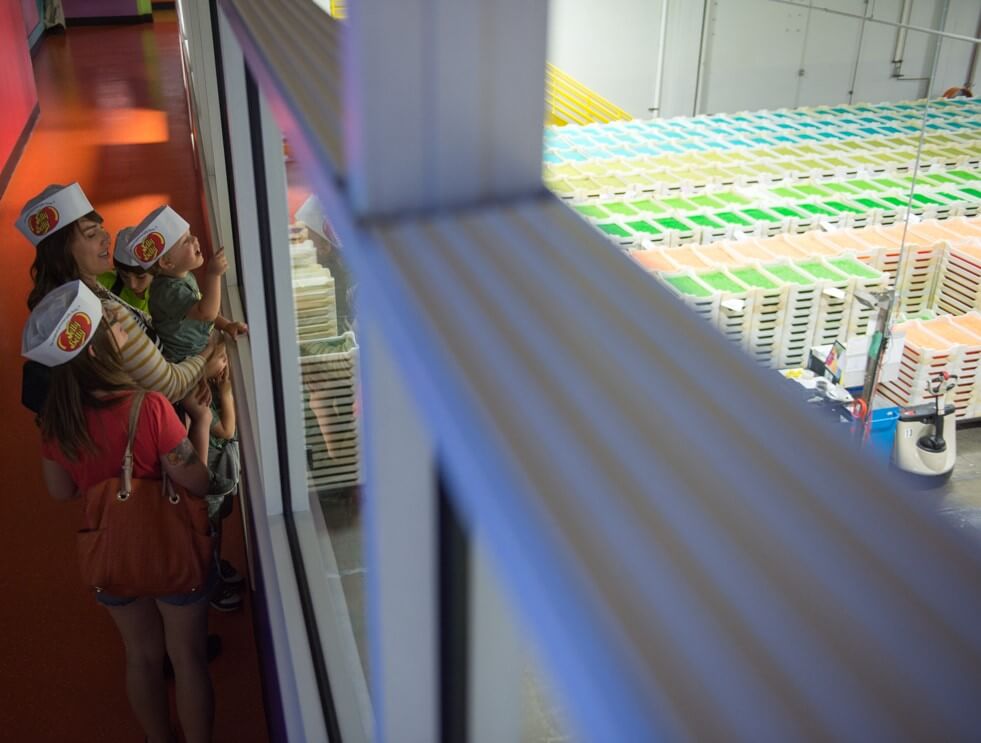 Go on a tour at the Jelly Belly Factory! Whether you are a new visitor or a returning friend, Jelly Belly offers a number of indoor activities.
The Jelly Belly Candy Company is the home of Jelly Belly jelly beans and more than 50 other fine confections. The self-guided tour is open daily, 9:15 a.m. to 4 p.m., (with the visitor center open until 5 p.m.) and is a great place to spend a couple of hours with your family. As you walk above the factory, take a deep breath and smell the aroma of peach, cinnamon, pineapple, or whatever flavor is being made that day. The quarter-mile walkway is filled with displays, interactive exhibits, and entertaining videos. Learn the secrets to how Jelly Belly creates the legendary Jelly Belly jelly bean, and discover why it can take up to two weeks to make a single bean. After your tour, visit the Jelly Belly Cafe, where you can enjoy a pizza or cheeseburger shaped like a jelly bean!
Visitors 21 and over are also invited to enjoy Jelly Belly's Wine & Chocolate Experience, featuring six Suisun Valley wines paired with delectable Jelly Belly chocolates, fudge, and sweet treats.
The fun doesn't stop there! Who doesn't like the challenge of a scavenger hunt? Add the Sweet Trail to your Jelly Belly visit and get rewarded for checking in throughout the tour! While exploring the self-guided tour at the Jelly Belly factory, discover check-ins posted throughout. It's easy to use, no apps to download, and there are fun prizes to claim at the California Welcome Center. Learn more about the Jelly Belly Sweet Trail at visitfairfield.com/explore.

K1 Speed Go- Karting
K1 Speed Fairfield is a world-class indoor electric kart racing venue. Offering highly advanced and environmentally-friendly electric go-karts as well as authentic racing memorabilia, a Paddock Lounge café, private meeting rooms, and game areas. K1 Speed is an upscale family entertainment center designed to keep you entertained and engaged, whether you're on or off the track.
Dave and Buster's
Play the hottest new arcade games and collect tickets for epic prizes. Catch your team or fights with the included HDTVs across the whole sports bar, and check out the chef-crafted creations in their American restaurant. From wings to steaks, you can choose whatever suits your appetite and enjoy family time inside all winter long.

Rain or shine, Fairfield's Suisun Valley and Green Valley tasting rooms are open all winter! Altogether, this region is home to over a dozen tasting rooms and six of those – Caymus-Suisun Winery, Wooden Valley Winery, BackRoad Vines at Village 360, and Vezer's Mankas Gardens and Blue Victorian – are open daily! Many other tasting rooms have weekend only hours. The blue skies and rolling hills, which will soon be a bright green in winter, provide a beautiful backdrop as visitors travel the valley "loop". It will not be long before the yellow mustard covers the valley floor. Although the vines are dormant for winter, Suisun Valley is as beautiful and welcoming as ever.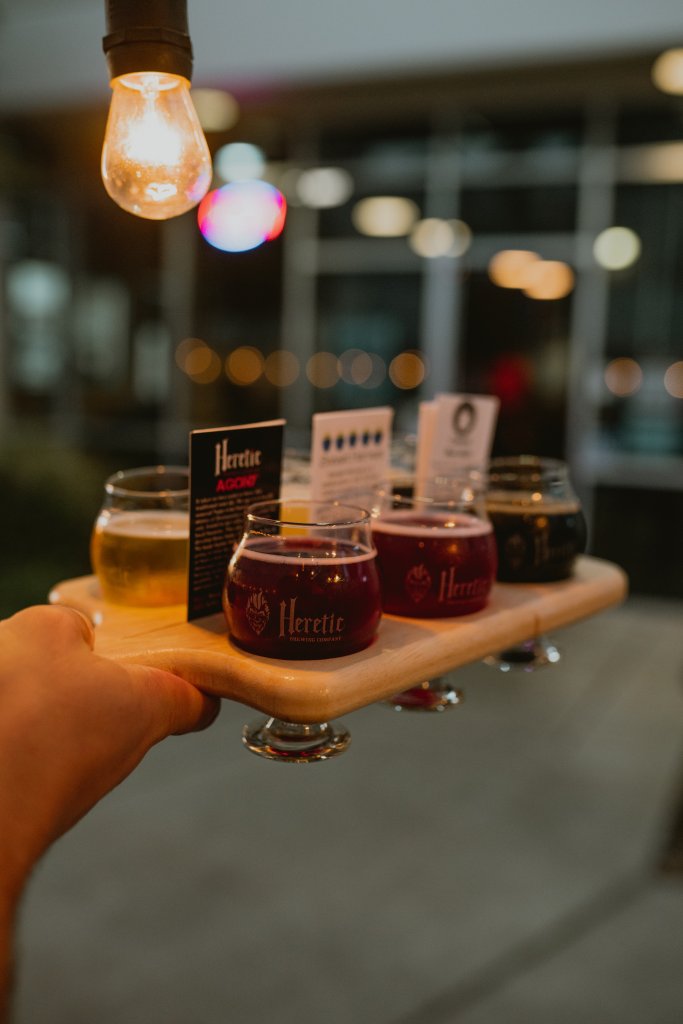 In addition to our wineries, Fairfield is also home to locally-owned breweries and taprooms. The largest is Heretic Brewing Company. Open seven days a week, this microbrewery and tap room specializes in award-winning full flavored ales and lagers. This nationally recognized brewery now distributes to over a dozen states and multiple countries, and is based right here in Fairfield!
True Symmetry Brewing Company in neighboring Suisun City features 20 craft beers on tap in a fun and relaxed tasting room that often includes dining options from area food trucks.
American Armory Museum
The American Armory Museum is proudly bringing history to life for its visitors with an impressive display of military vehicles and memorabilia that dates back over 100 years.
The museum, located at the intersection of Abernathy Road and Suisun Valley Parkway, has over 60 vehicles on display between its large yard and indoor showroom, many dating back to World War II, the Korean War, and the Vietnam War
Jelly Belly Museum
Explore the history of Fairfield's favorite candy! The museum presents the evolution of candy-making equipment and the growth of the family-owned Jelly Belly Candy Company through a whimsical and interactive experience.
Western Railway
The Western Railway Museum gives visitors the opportunity to ride historic streetcars and interurban electric trains from all over California and other western states. Streetcars loop the shaded picnic grounds. Interurban cars run over the restored main line of the old Sacramento Northern Railway. With over 50 historic cars on display, railway exhibits, the Museum Store and Gift Shop and the large, shaded picnic grounds, the Western Railway Museum is ideal for family and group outings and is open all year long.

Il Fiorello Olive Oile Company
During the winter, the Il Fiorello tasting room is open for visits and oil tastings. Enjoy a comparative tasting of extra virgin olive oils, co-milled oils, and balsamic vinegar reductions. Led by experienced staff, learn how to appreciate olive oils & enjoy a chef-crafted food pairing to expand your palate. Reserve ahead for charcuterie & cheese boards or soup of the month.
Sonoma Harvest Olive Oil
Sonoma Harvest's family-friendly tasting room in Fairfield, hosts complimentary olive oil and vinegar tastings as well offers delicious food products, including their gourmet olive oils, vinegars, mustards, jams, sauces, and gift items. Stop by for complimentary tastings of almost all of their Sonoma Harvest products.

Farmer's Closet
This beautiful spot is a one stop boutique shop! Farmer's Closet has women's and children's clothing, home décor and a great selection of gift items. Located in the old Gomer School in Suisun Valley, you're sure to find a beautiful gift!
Vintique Marketplace
Where you can experience "vintage at its best" specializes in furniture, decor, chalk paint, and gifts. Vintique Marketplace offers custom painting of various home furnitures and barn doors, as well as paint classes. If you or someone you love enjoys DIY home projects, this is the store for you!
Cordelia Junction Antique Mall
Family owned and operated for more than two decades, the Cordelia Junction Antique Mall is the largest antique and gift collective on Interstate 80 between San Francisco and Sacramento. With multiple levels and a huge selection of treasures to admire, its easy to get lost in this unique antique store.
Suisun Valley Antiques & Collectibles
Find one of a kind treasures in the heart of the beautiful Suisun Valley wine country at Mankas Corner. Suisun Valley Antiques has more than one acre of inventory where you can discover items including collectibles, antiques, architectural remnants, salvage, period Americana and more.
Vacaville Premium Outlets
Located between San Francisco and Sacramento, Vacaville Premium Outlets features 120 stores including Adidas, Aeropostale, Ann Taylor, Banana Republic, Calvin Klein, Carter's, Coach, Cole Haan, Gap Outlet,Guess, J.Crew, Kate Spade, Le Creuset, New Balance, Nike, The North Face, Polo Ralph Lauren, Puma, Reebok, Tommy Bahama, Tommy Hilfiger, Under Armour and more.
Take your health journey to Fairfield's scenic Village 360 surrounded by the lovely Suisun Valley. 'Wellness at Village 360' offers a wide variety of activities and amenities promoting happiness and well-being, including yoga, sound healing, Zumba, pilates, and turbo kickboxing.