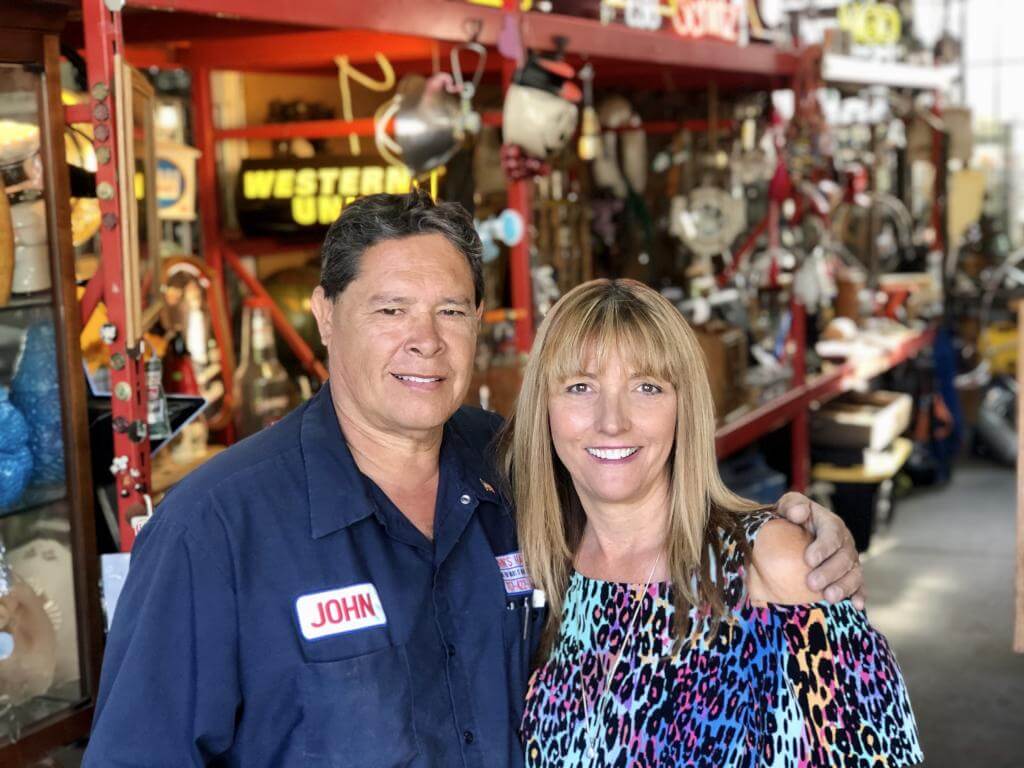 While there is no pot of gold – that we know of at least – hiding in Suisun Valley, there are many treasures waiting for you at Suisun Valley Antiques.
Located at the historic Mankas Corner in the heart of Fairfield's rustic wine country, Suisun Valley Antiques sits on over an acre of land overflowing with an eclectic collection of items large and small, from farm equipment, motorcycles, furniture and wagon wheels to garden and home décor, chandeliers, military memorabilia, toys, records and CDs.
John and Janelle Crossley, who also own John's Hauling next door, opened Suisun Valley Antiques 15 years ago. John's Hauling cleans out homes and businesses, often after people vacate and leave everything behind, and the Crossley's were inspired to open the antique store because so many re-useable items were going to the landfill.
"Anything we can salvage, trade, donate, sell, or give away, we add to our collection here," John Crossley said.
"We really keep the best of the best. We've become a picking yard for artists, as well as local folks looking for anything from shovels to plants to furniture to jewelry. We have almost an acre and a half here and it's all full."
The Crossleys and their team, which includes their two sons, work hard to keep inventory moving. They are open daily and host huge tent sales the third full weekend of the month, February to October, where they bring everything out for people to see. They also welcome people to come in with their own items to trade for store credit.
"We let things go at affordable prices," John Crossley said. "There's no reason a person can't have anything they want here. I tell people, 'don't let money get in your way.' It's here because I want someone to have it and I try to find good homes for all of it."



Over the years, they have come across some incredible finds, including an 1880s-era US rifle, swords, vintage pinball and slot machines, and a World War II bomber jacket from the Chosen Few. The jacket was sold to American Pickers when the show visited Suisun Valley Antiques in March of 2008.
John has lived in Fairfield all his life and it has been especially exciting for him to see the revitalization of Mankas Corner in recent years. The area has become a hub for the valley.
"It's a real hidden gem," John Crossley said. "I want this to be a place where people get excited at what they can find."
Suisun Valley Antiques
Open 10am-3pm Wednesday-Sunday
2525 Mankas Corner Road, Fairfield